Heritage for Schools in Rural Carmarthenshire
Sharon Philips will be working as a Schools Heritage Project Officer with rural primary schools in Carmarthenshire over the next 12 months.
Whilst working with schools, Sharon will develop a teaching resource which will also be available on line.
This exciting project looks at two aspects of Carmarthenshire's rich heritage:
Cultural heritage and the key characters that shaped not only our county, but Wales and the Welsh language.
Carmarthenshire's Built Heritage with its rich tapestry of fascinating buildings ranging from cottages to castles.

The Heritage for Schools in Rural Carmarthenshire project will be led by the Tywi Centre in partnership with Sbectrwm. The project will run for a year from January 2018.
Children will be encouraged to investigate local Welsh characters and important historical events and bring them to life with storytelling and by making short films. They will also learn about traditional building methods and materials and how living conditions have changed over time.
Cllr Glynog Davies executive board member for education said: "This is an interesting project which covers many different educational spheres for our primary school pupils and ticks many boxes within the National Curriculum.
"All the information and media gathered will be developed into bi-lingual, web-based learning resources that supports the Key Stage 2 curriculum.
"The project delivery partnership brings together the Tywi Centre's experience and knowledge relating to old buildings and Sbectrwm's commitment to celebrating and promoting Welsh Culture, language and education."
The project has received £36,022 from the LEADER scheme - Welsh Government Rural Communities - Rural Development Programme 2014-2020 (RDP), funded by the European Agricultural Fund for Rural Development and the Welsh Government, in addition to £5,900 from the Heritage Lottery Fund (HLF).
Richard Bellamy, Head of HLF in Wales, said: "Thanks to National Lottery players, HLF is able to help people learn about and take pride in their local heritage. Learning about history can be rewarding, fascinating and fun, and 'Heritage for schools in rural Carmarthenshire' is a good example of how it can be done."
Ysgol Teilo Sant learning about the timeline of Llandeilo's built heritage
Pupils from Ysgol Teilo Sant travelling through time in Llandeilo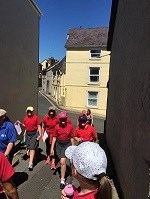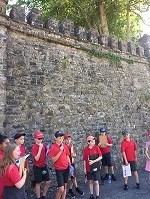 A wonderful day at the Iron Age Fort of Garn Goch, near Bethlehem with the Celts and Romans of Ysgol Teilo Sant learning about life there over 2000 years ago. What a special place.